Dr. Marina Uzelac, DC
Dr. Uzelac has extensively pursued her passion in the field of natural health and wellness. Suffering from various health ailments herself, Dr. Uzelac has spent the majority of her adult life seeking holistic options for treating those ailments. This passion for health and wellness led her to pursue a Bachelors degree in Kinesiology from the University of Western Ontario. She then obtained a diploma in massage therapy from the Canadian College of Massage and Hydrotherapy in Toronto. Dr. Uzelac then spent several years practicing as a successful Registered Massage Therapist. Always striving to improve, and recognizing that the human body is an intricate system that needs a multidisciplinary approach, she decided to pursue the study of Chiropractic. She attended Los Angeles College of Chiropractic at Southern California University of Health Sciences and earned her Doctorate of Chiropractic in 2006.
Dr. Uzelac fully believes that optimal health is finding a balance between all the body's systems. When one system is out of balance, symptoms arise and Dr. Uzelac's goal is to find the root of the problem and to correct these imbalances systematically through chiropractic adjustments, soft tissue treatment and nutritional testing and supplementation.
Optimal health and wellness takes time and dedication. Dr. Uzelac works with each patient to set achievable goals and implement a treatment plan.
When she's not practicing Chiropractic, Dr. Uzelac loves to spend time with her two young sons as well as being physically active, and pursuing other hobbies such as music and dance.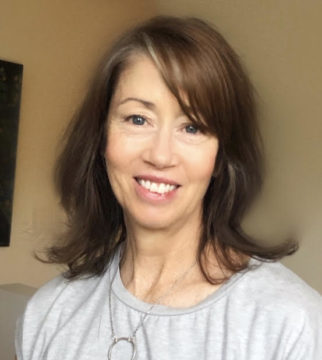 Krista Budgell, RMT
Krista recently relocated to Victoria with her husband and two active teens, from Ontario, where she practised as a Registered Massage Therapist for over 20 years. She has worked with patients of all ages presenting with a wide range of musculoskeletal conditions, including repetitive strain injuries, post-concussion syndrome, motor vehicle accidents, chronic neck and back pain, headaches and TMJ dysfunction.
Krista is trained in swedish technique, myofascial therapy, trigger point therapy and intra/extra oral TMJ techniques. In addition, she has training in craniosacral therapy and somatoemotional release therapy. She is compelled by the gentle, yet deeply profound effects of working with the craniosacral system to enhance the body's innate healing mechanisms, to alleviate post traumatic pain and stress and to bolster the body's resistance to disease. As an avid yoga practitioner and teacher for many years, Krista often incorporates dynamic methods of stretching and strengthening soft tissues, joint play techniques, meditation and breathwork into treatment and self-care protocols. She appreciates that each person is unique and strives to honour this by providing supportive, knowledgeable and effective treatments that are tailored to each person.
Krista offers direct billing to MSP, ICBC and extended health benefits and is enthusiastically accepting new patients.
Ludmilla Lyle, DTCM, R.Ac, RYT
Master diploma in TCM, Registered Acupuncturist, registered Yoga Instructor.
Ludmilla started her studies of health at the age of 18, moving to Japan studying Aikido and Shiatsu. Coming back to Canada, she entered Traditional Chinese Medicine school. Along side her studies of Acupuncture, Herbology, Cupping, Gua Sha, Tui Na, she studied Jin Shin Do acupressure, Qi Gong and Qi Gong Healing, Tai Qi, Reiki, western Herbology, Homeopathics, and Chakra Healing. In Hawaii she studied Lomi Lomi (Hawaiian massage). Working in many places around the world refining and developing her practice, and studying with many healers along the way, Ludmilla has come home to Victoria to offer acupuncture, massage and energy work. With an understanding of body mechanics and a need to move freely, yoga teacher training was the next step to add to modalities for a whole body holistic approach. She is currently taking new patients and provides integrated health and acupuncture services.
Julia Alpini, RMT
Julia was born and raised on beautiful Vancouver Island. Her desire to be near the ocean and love of close-knit communities drew her to pursue her studies in Victoria. In 2014, she graduated from the West Coast College of Massage Therapy.
As a registered massage therapist Julia finds it truly rewarding to play a part in her client's healing process. Julia has worked with clients of all ages and conditions, be it for stress relief, improving mobility or recovering from injury. Her understanding of anatomy, the regulation of pressure and the importance of communication during your session will help her deliver the most effective treatment to relieve your pain and discomfort.When not at work you will find Julia out enjoying local events, such as music and food festivals, finding new places to explore locally or with a good book at her favourite cafe.